September 12 - Club Committee Meeting Report - Main Points of Interest for Members Information.
The following are the main points arising from the Committee Meeting that took place at Folke on Wednesday 12 September. A copy of the minutes is on the Club Notice Board
Captain's Reports:
a) HARDY A CAPTAIN: the final match of the year is Saturday at home against Moors Valley
b) HARDY B CAPTAIN: all matches completed
c) 3CL CAPTAIN: The last match was played against Wincanton and resulted in a 2½ : 2½ draw. We are runners up in the league to Long Sutton. We are currently leading in the J Harring trophy but Long Sutton have a match to play. Derek concluded by saying that after three years he would not be standing for re-election next year and Terry thanked him for all his effort and good work.
d) SENIORS CAPTAIN: The seniors beat Fossway at home 4:2 and played a triangular match against Kingweston and Cannington at Kingweston which Kingweston won 265:242:222 with Folke coming second.
e) CLUB CAPTAIN: Terry said well done to everyone in the club championships, it was a good day and the course was in good condition. A special congratulations to Andy for winning. Captains Day will start at 12.00 and will cost £10pp with funds going to the British Heart Foundation.
Other Items
a) DCGU inter-club mens foursomes: Kevin Allen and Dan Tuffin will represent Folke in this competition.
b) Recent Winners The committee offered congratulations to Roger Harvey for winning the category 4 championship, John Swain for coming 3rd in category 3 and Ben Miller for a good effort in category 2. Darren Marsh won the summer eclectic. Congratulations to Andy Harris for his clean sweep in the Club Championships and to Ian Tinsley and George Taylor for winning their respective knockout titles.
c) Honours Boards: Work to update the honours and officers boards is in hand.
d) Summer Knockouts: these have now been completed with John Swain winning the Club Knockout and George Taylor winning the Seniors Knockout.
e) Winter Knockouts: the draw was done and put on the notice board. (See Special Events Page) It was decided that mid October was too early for the first round of the club knockout to be completed as it was only three weekends and included the weekend away. It was felt that min November dragged things on too much so the committee agreed that the first round of both competitions should be completed by end October with subsequent rounds one month later.
f) The Folke Golf Centre web site is being redesigned and will contain only information about the centre. Club information will be contained in a new web site when the new Centre site is launched.The draft new Folke Golf Club web site can be seen via this link. www.folkegolfcentre.co.uk/Dev/index.html
Next Meeting: The next Committee Meeting will be held at Folke on Wednesday 17 October at 7:30 pm. All club members are invited to attend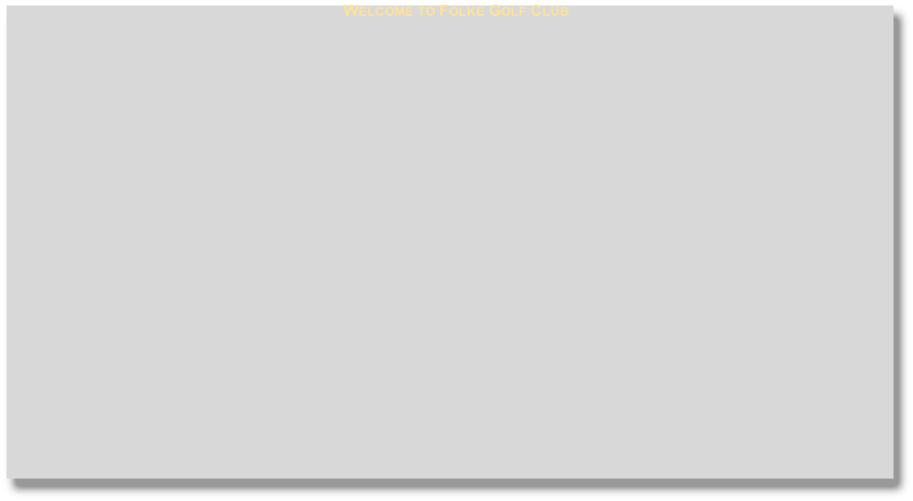 Committee Members: Matt Boon, Geoff Bannister, Norman McCabe, Richard Robinson, Ben Miller, Roger Harvey, Lee Smith

Terry Cotton
Club Captain
Steve Harris Fixtures Secretary
Martin Blatchford
Hardy A Captain
Peter Gibson
Gen. Secretary
Stuart Beardsley Treasurer
Folke Golf Centre is the Home of Folke Golf Club. This page shows the Club Officials and provides information on the Committee activities for the benefit of the club members. For further information please contact any of the Club Officials.
Kevin Down
Club Vice Captain




Simon Lloyd
Hardy B Captain

Steve Henstridge
Handicap Secretary